What's There in Main Course
MC 2 – Smooth N Sticky
A quick introduction to what is available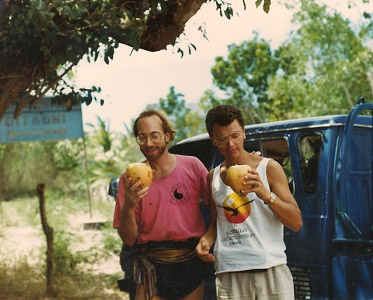 There is a lot of info on this site and until one is familiar with finding and understanding what is available, it wouldn't hurt to have a brief orientation to each theme.  In this 'What's There', you can find
— what the theme (Smooth N Sticky) is about
— a brief summary of what is to be done, generally speaking, in each lesson
— a listing of the handouts that can accompany the lesson plan
For more detailed explanations of what is being suggested, you can check out the lesson plans themselves.
This is an exploration of making descriptions of physical objects
The project encompasses 3 progressive classes where the students first learn vocabulary that could help them do the task, and then apply it while describing different foods
MC2-1   Size and Shape    First some basic vocabulary is introduced, including a brief look at some word formation (noun vs adjective forms)
MC2-2  5 Senses                More vocabulary is introduced on how to better describe objects using the 5 senses
MC2-3  Surprise                In the last class the students are given the surprise:  a fun activity where they have to describe different items of food using the vocabulary
Size & Shape Vocabulary class   (MC 2-1)
HO 1
Students learn and quiz each other on the vocabulary associated with size and shape.
5 Senses class   (MC 2-2)
HO 1
Review size and shape vocabulary from last class.
HO 2
Elicit and fill in vocabulary for each of the 5 Senses sections on the new handout (HO 2).
HO 2
Students practice using the vocabulary by quizzing each other or trying to guess objects using descriptions.
Surprise (Application) class   (MC 2-3)
HO 2
Students review 5 senses vocabulary
– –
Students try to use the vocabulary while being led by the teacher as they try to guess and/or describe objects.  (I tell the students that they can't refer to the handout during this stage to have them focus more on the activity and to try to access the info or ways to communicate on their own, but that is up to the teacher.)
– –
Students work on their own with more food objects supplied by the teacher, but they explore at their own pace.
NOTE:  HO 3 is for the teacher only.  It's a list of supplies to bring to the class.
And that's basically it.  If there is a particular lesson plan you wish to look at more closely you can select it in the Lessons page directly below the theme title by clicking 'Visit'.